Jazz na Real Vinícola | Orquestra Jazz de Matosinhos & Carlos Bica + Azul ft. Frank Möbus e Jim Black
Praça da Real Vinícola, Matosinhos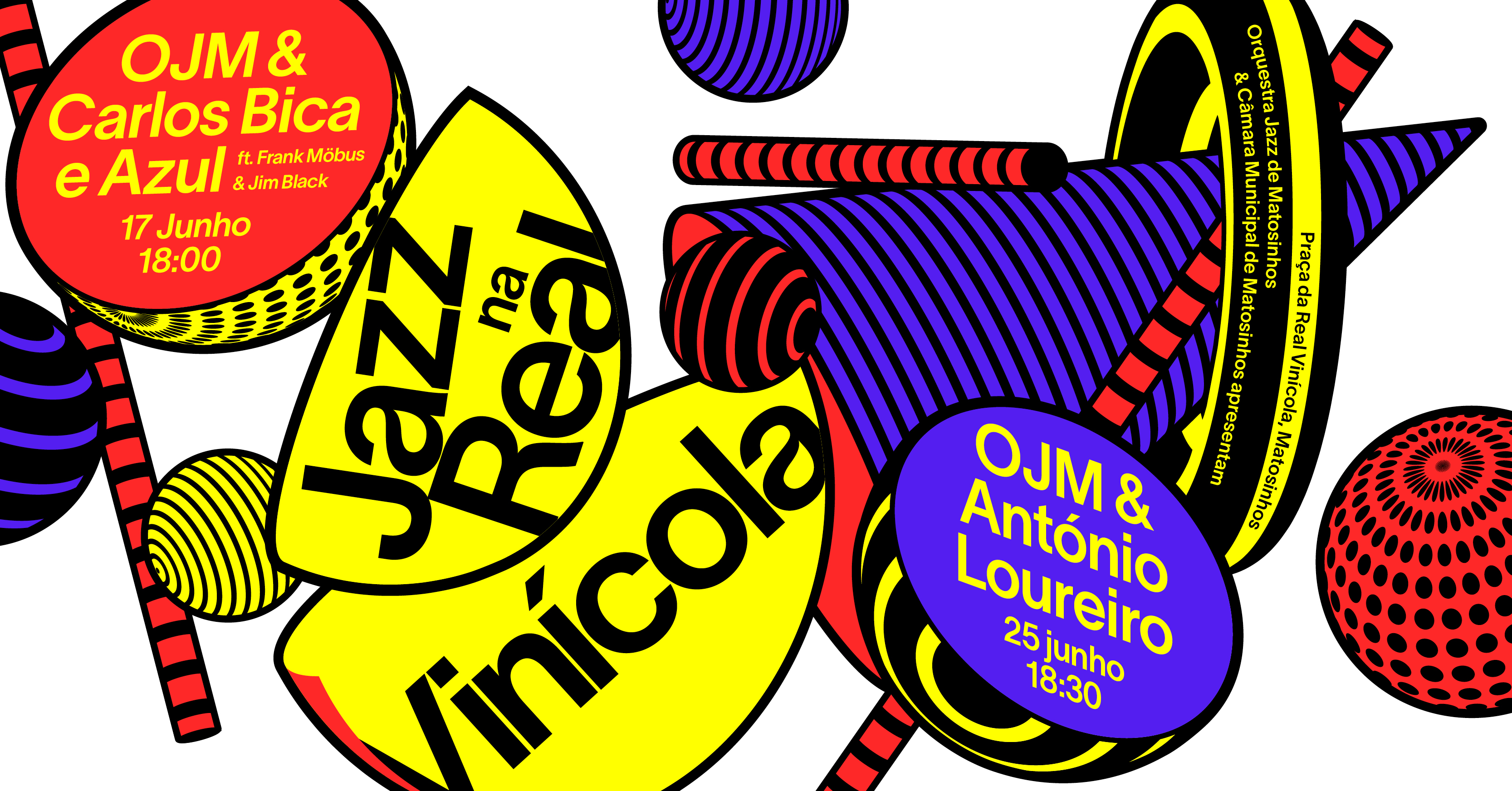 O Jazz na Real Vinícola está de regresso para a sua 4.ª edição com dois concertos ao ar livre. Desta vez a Orquestra Jazz de Matosinhos reencontra-se com uma das grandes referências do jazz português e estreia-se ao lado de uma estrela em ascensão vinda directamente do Brasil.
A 17 de Junho, a OJM volta a partilhar o palco com Carlos Bica e o seu trio Azul (com Frank Möbus e Jim Black), para um concerto que percorre repertório que a formação construiu ao longo de décadas e que a afirmou na cena do jazz europeu.
A 25 de Junho, segue-se a estreia com António Loureiro, compositor e multi-instrumentista de Belo Horizonte, uma das vozes mais fascinantes da sua geração. Sem barreiras entre o popular e o erudito, Loureiro traz na bagagem a sua música movediça, que mescla inúmeras referências da composição instrumental e da canção.
Os concertos realizam-se na praça exterior da Real Vinícola, sempre que as condições meteorológicas o permitam. O acesso é livre, mediante a lotação do espaço.
ORQUESTRA JAZZ DE MATOSINHOS & CARLOS BICA E AZUL (ft. Frank Möbus e Jim Black)
Sábado, 17 Junho 2023 às 18h
Direcção Musical: Pedro Guedes
Carlos Bica é uma das grandes referências do jazz português, universo onde se move há cerca de três décadas. A qualidade dos projectos que desenvolve desde cedo lhe deu uma dimensão europeia. Entre estes destaca-se o trio Azul, que lidera desde 1996, uma colaboração de rara longevidade com o guitarrista alemão Frank Möbus e o baterista norte-americano Jim Black. A intensa comunicação entre os três músicos e a originalidade do repertório, com constantes referências a géneros variados (do rock e da pop à música tradicional), trouxeram um reconhecimento que se tem mantido ao longo dos já cinco discos. Depois do primeiro encontro em 2014, a Orquestra Jazz de Matosinhos volta a partilhar o palco com o trio para navegar uma vez mais nas sonoridades esparsas tão marcantes em Azul.
Orquestra Jazz de Matosinhos is a non-profit institution promoting creativity, research, education and public awareness in the field of Jazz. With the support of the Matosinhos City Council and combining international ambition with a deep involvement with the local community, OJM plays the role of a National Jazz Orchestra.

OJM considers itself a pioneer in a largely unexplored territory.

CARA is an innovative recording studio, performance center and research facility. We are committed to explore new ways of leveraging the use of technology to promote musical excellency, as part of our performance activity, and to foster the emergence of new paradigms for musical education, as part of our educational department. Throughout the year, a multidisciplinary team develops a large number of projects, both in schools and in-house, in an innovative and wide scope approach to education fueled by research and focused on music and improvisation.